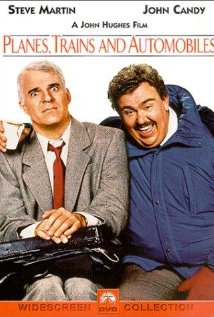 Directed by John Hughes and starring Steve Martin and John Candy, Planes, Trains and Automobiles, features two mis-matched travelers trying to find their way home.
En route to Chicago to spend Thanksgiving with his family, easily annoyed businessman Neal Page (Steve Martin) finds his first-class plane ticket has been demoted to coach, and he must share his flight with obnoxious salesman Del Griffith (John Candy). A sudden snowstorm in Chicago forces the plane to land in Wichita. Martin and Candy must make their way back to Chicago.
Rated R
November 2, Movie at 8:00 pm
Enjoy dinner out at Our Daily Bread and then head down to the Flint RiverQuarium Imagination Theater for Planes, Trains & Automobiles.
Tickets are $15 per person and can be purchased at the Flint RiverQuarium or at Our Daily Bread. For more information, call 229-639-2650.